CHSS Partner
Democratic Republic of Timor-Leste
UNTL · The National University of East Timor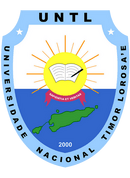 UNTL · The National University of East Timor
UNTL (Tetum: Universidade Nasionál Timór Lorosa'e) is a public university in Timor-Leste, the only one of its kind in the country.
Founded in 2000, as a result of the nation's independence, With six campuses, nine colleges and seven research centers, it is the largest Timorese university in terms of the number of students, university professors and budget. Forming the country's intellectual elite, it is also a national reference in teaching, research and extension, the tripods of higher education.
The National University of East Timor is a multilingual university, being the largest research center in Tetum, one of the two official languages of East Timor, but its classes are taught primarily in Portuguese. It has its headquarters in the city of Dili, the national capital.
In motion | news, thoughts & events @ UNTL
The workshop centers around the conceptual area of "planetary water" to facilitate programs and help participants develop innovative methodological approaches for their research.
Cultivating the Humanities and Social Sciences & Supporting Under-Represented Scholars of Asia